2

Cascade
Cascade Logo
Business Cards
As part of a theory assignment, I worked in a group to develop an idea. This idea was for a nursing home, one that focuses more on the concept of treating the elderly as a source of wisdom and knowledge rather than a hindrance.
The name we have chosen to go with for our brand is Cascade. This name is strong and sets itself apart from the hundreds of other similar facilities or care providers that feel the need to embed care, health or age into their title. Often choosing to use all three. While this does make it easier for them to be found, having a name like ours, that will actually be remembered and have a pleasant meaning, will be more likely to stay in the mind and then reap the benefits. This leads me into the meaning of our title. A cascade is most frequently a small waterfall that falls down in stages, gradually getting wider. For our purposes, this analogy is perfect. In terms of our program, the water is the information and wisdom of the elders, passed down as time goes on, reaching more and more people as it goes on. As we intend to facilitate both the teaching of elders and the sharing of their prior knowledge, this name works perfectly.

In addition, our choice of logo has been restricted to a wordmark with a simple visual device in the altered question mark. We have chosen to use a serif typeface simply in the way that it denotes a certain sense of care and personality, even just in the detail of the type. We also think that this may be more likely to appeal to the elderly people who will be the ones most often subjected to the branding. In terms of the question mark, we feel this provides both the extra flair necessary to keep our branding contemporary and interesting, as well as alluding to the knowledge component which is at the essence of our brand.

Here are some of examples of what the Cascade brand would look like in terms of applications. We have come up with a letterhead, a business card, and billboard. These would be the items most important for the brand, as communication with the people in the programs and strong organisational clarity would be essential. The billboard represents a move into the future, as the program expands and becomes its own entity and appealing reason behind entering one of our aged care facilities.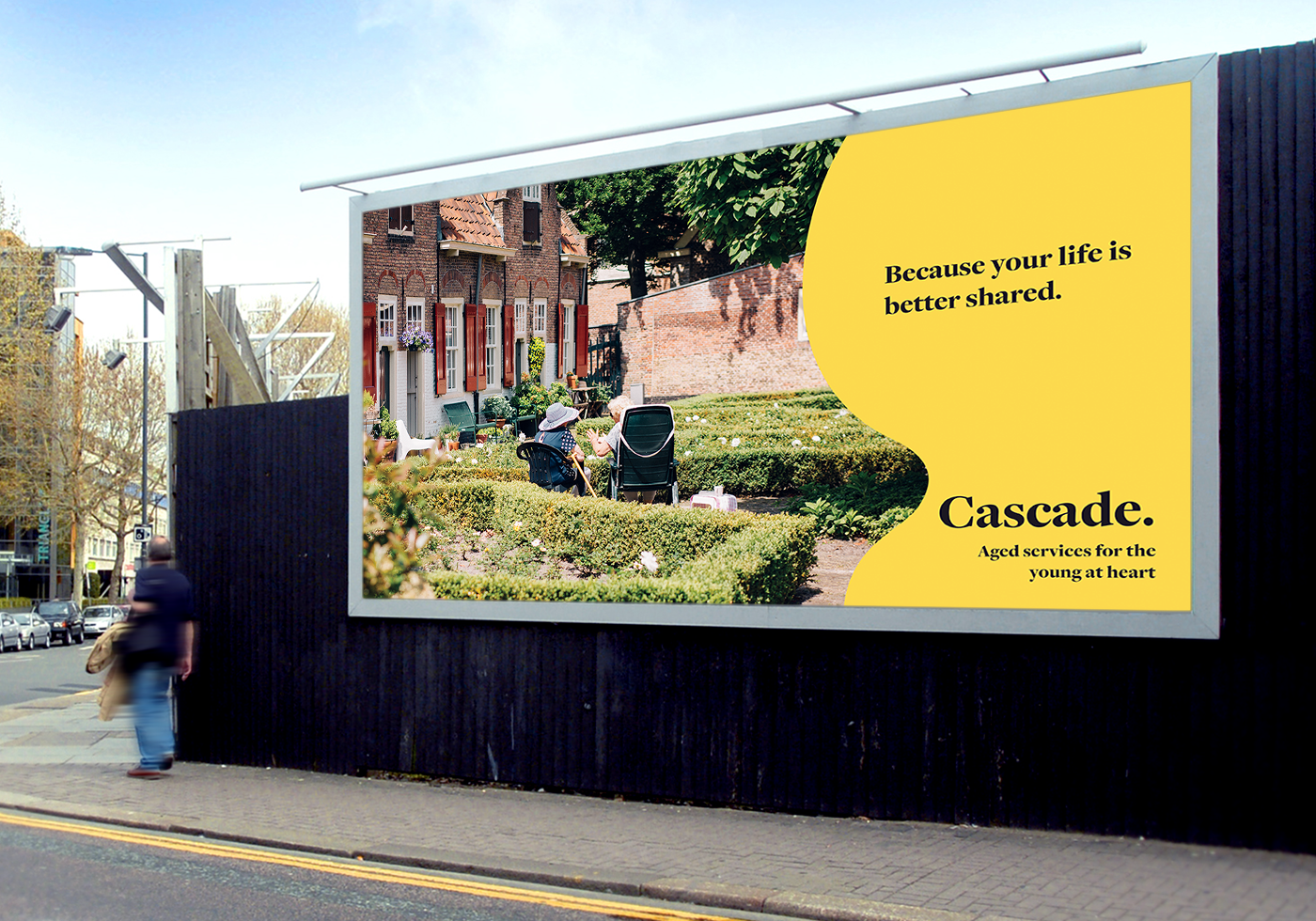 Billboard
Stationery